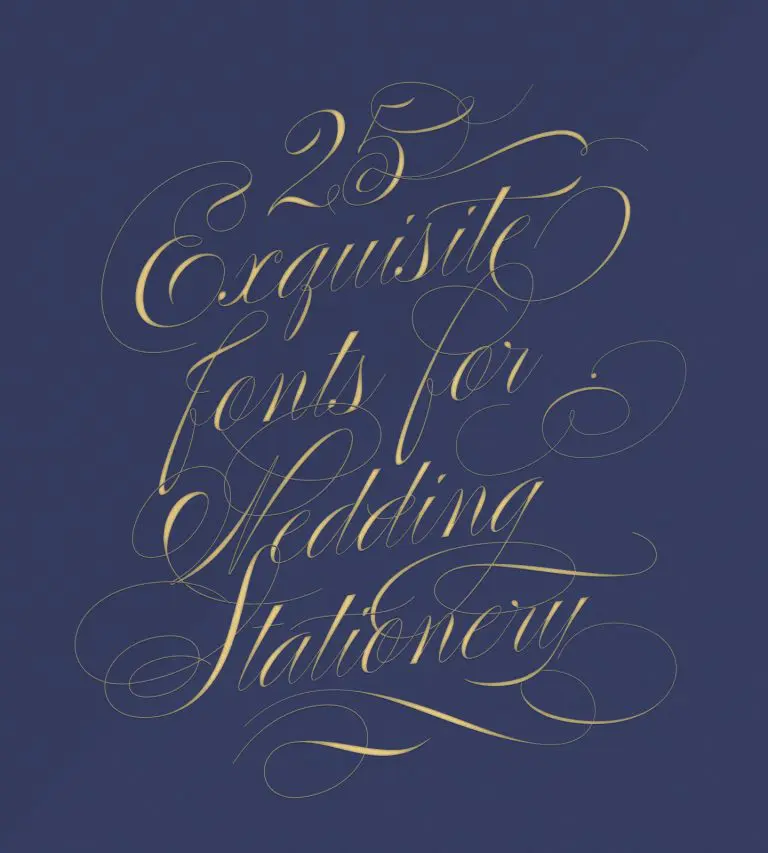 Anyone who's ever planned a wedding understands the sheer amount of stress involved throughout the ordeal. It seems a simple enough task at first: choose a beautiful location, find a good caterer, select the flowers, and track down a deejay who doesn't completely suck. So far, so good—right?
Planning a wedding is all fun and games until the bridesmaids start complaining about their dresses. Or until you're forced to spend hours agonizing over the seating arrangements for your reception because one half of your family hates the other half and you've realized that World War III will definitely break out if Grandma Pearl sits at the same table as Cousin Clyde. (We can't say we blame her, really… Clyde can't hold his liquor and he flirts with anything that moves. Including Grandma Pearl.)
When you're ready to design your announcements, wedding invitations, RSVP cards, favor tags, programs, and place cards, YouWorkForThem has got your wedding font needs covered! Whether your event will be an upscale, formal affair or a bohemian ceremony on a moonlit beach, this stellar collection of 25 script fonts delivers a variety of elegant choices, instantly simplifying your search so you can get back to more pressing matters. Take a deep breath, exhale slowly, and let yourself relax for a moment because now you've got one less thing to worry about!
Adagio Pro is a beautiful and formal script that features elegant swashes in the uppercase lettering. Graceful and classy, Adagio Pro offers an extensive selection of alternates, ligatures, and character combinations for design versatility.
Adelicia is more contemporary, maintaining a soft elegance that's a bit looser and a little more carefree. Reminiscent of handwritten cursive, Adelicia includes both long and short swashes for flexibility in your design, alternates, ligatures, and multi-language support.
Adios Script is a massive calligraphy type design that offers 1,470 characters in OpenType, making this font an excellent choice if you're designing a complete wedding stationery set. The flourishing ornaments and elaborate swashes of Adios Script are as versatile as they are beautiful.
Adorn Catchwords is not your typical font, but a set of twenty standalone, frequently used words and short phrases in distressed calligraphy. Adorn Catchwords is hand-lettered, adding a fabulous touch to wedding announcements, save-the-date notices, and RSVP cards.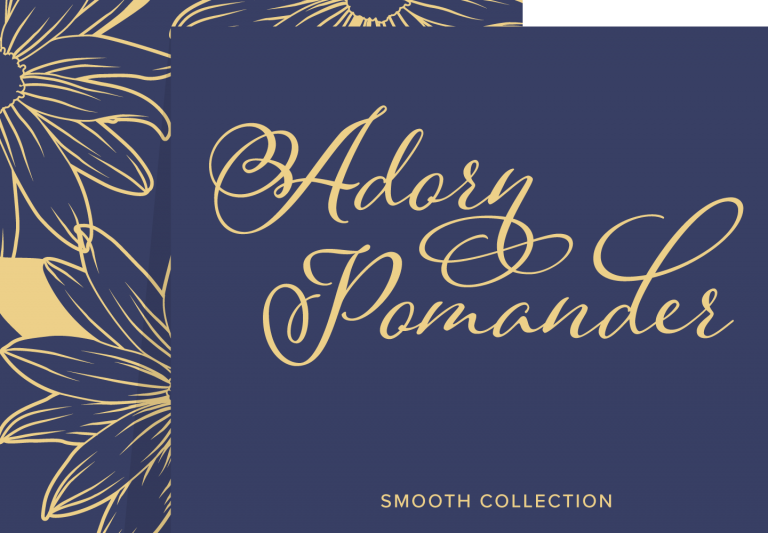 Adorn Pomander Smooth Collection is an impressive family of 11 fonts that will complement one another beautifully throughout your wedding stationery. Designed to work together flawlessly, Adorn Pomander Smooth Collection features elegant scripts, formal engraved lettering, condensed casual letterforms, serif and slab serif lettering, catchwords, frames, banners, borders, and ornaments. It is a complete font suite that will make your wedding stationery designs a breeze to put together.
Affair is a romantic calligraphy script that looks absolutely beautiful on stationery. Clearly legible with a host of stylistic alternates and swashes that easily add elaborate flourishes to your design, Affair is an equally excellent choice for formal and casual weddings.
Angel Script is a contemporary, handwritten cursive type design. With swashes, stylistic and contextual alternates, titling alternates, and old style numerals, Angel Script includes 695 glyphs that offer a lot of versatility for wedding stationery designs.
Boho is a family of 26 fonts that capture the essence of the barefoot free spirit. Contemporary and casual, Boho is pure vintage charm. Buoyant and carefree like a warm wind through unbound hair, this font family includes sans serifs, scripts, dingbats, and ornaments reminiscent of the bohemian, gypsy lifestyle.
Brenda is a feminine and romantic script font that exudes a classic elegance befitting of a formal affair. Featuring more than 405 glyphs and 160 alternate characters, Brenda Script is a gorgeous addition to wedding invitations, RSVP cards, and event programs.
Burgues Script is an elaborate calligraphy font that pays homage to the skilled penmanship of Louis Madarasz, considered by many to be among the finest calligraphers in the world. Burgues Script is delicate yet ornate, offering contextual and stylistic alternates, titling alternates, ligatures, and swashes that add ceremonial flourish to formal wedding stationery designs.
Candlescript Pro is an extensive font family comprised of 48 fonts, making this a truly versatile option for wedding designs. Featuring varied amounts of flourish and swash, Candlescript Pro is a smooth cursive type design that lends an air of elegance to everything it touches.
Compendium is a graceful and refined calligraphy script rooted in the concepts of 19th century penmanship. Gorgeous curves and elaborate swashes make Compendium an excellent choice for compositions that demand a regal appearance.
Filmotype Yale is a formal script with a classiness that's well-suited to any formal wedding event. Smooth and elegant, Filmotype Yale offers contextual and stylistic alternates, subscripts, superscripts, and ligatures.
Filmotype York is a luxurious calligraphy script that is ideal for wedding stationery, particularly because of its legibility in smaller sizes. Filmotype York is extravagant and flourished in all the right places, making it a beautiful addition to wedding announcements, invitations, RSVP cards, and event programs.
Insolente is a delicate handwritten script font. Presenting an attitude that's a bit more casual, Insolente is modern and simple, making it perfect for wedding events intended to have a relaxed, informal atmosphere.
Isabella is a feminine, monoline cursive script that's rather whimsical in nature, yet it maintains an undeniable elegance. With multi-language support and 165 alternate characters, Isabella's contemporary handwriting is equally at home on wedding stationery designed for both formal and informal events.
King Bloser is a calligraphic family of ten beautifully ornate fonts. Ideal for more traditional or formal wedding events, King Bloser features insanely elaborate swashes, contextual and stylistic alternates, ligatures, lowercase endings, and lowercase initials.
Lexus Brut Sparkling is steeped in mid-twentieth-century charm. Bringing more than just a touch of vintage glamour, Lexus Brut Sparkling adds a sleek, retro edge to wedding stationery while maintaining a cool and classy vibe at the same time. It's a well-balanced type design that's luxurious without going totally over the top.
Madina Script is a more modern calligraphy font. Featuring a "handpainted" brush effect, Madina Script includes an additional set of 30 hand-drawn ornament details for adding a special finishing touch to wedding stationery.
Mercy is a delicate and beautifully flourished calligraphy script font. Light as a feather with wispy flourishes and gorgeously feminine lines, Mercy is an elegant choice for traditional and formal wedding events.
Ministry Script is an alluring calligraphy font with a decidedly retro flair. Ministry Script contains four variants of each letter in OpenType, serving as an incredibly versatile choice for wedding invitations, RSVPs, place cards, event programs, and dinner menus.
Poem Script is one of the most gorgeous calligraphy offerings in this list, not only due to the artistry behind the letterforms, but because of the extensive and incredibly beautiful set of ornaments within the font family. "Elegant" doesn't even begin to describe Poem Script's 153 ornament glyphs, a set that features elaborate curls, flourishes, and wispy imagery of birds in flight. For wedding stationery that requires a truly romantic and formal touch, Poem Script is an absolute must-have.
Rolling Pen is a smooth, monoline cursive font with a contemporary flair. The delicate lettering of Rolling Pen offers plenty of versatility through contextual and stylistic alternates, titling alternates, ligatures, and swashes, accessed via OpenType to add more pizazz to your wedding stationery designs.
Symphony Pro exudes a classic, formal elegance when used as a wedding font. Like a night spent inside a grand opera house, Symphony Pro is music for the eyes, with beautiful curls on the uppercase lettering and ligatures and alternates accessed through OpenType.
Violetta is a family of five fonts that includes one sans font, three script fonts, and set of 24 swashes to add a final touch of sophistication to wedding stationery designs. Written with a decidedly feminine hand, Violetta is stylish without being overly-formal, yet its large curls and sweeping strokes still make it an excellent choice for upscale events.
During your wedding font search, explore the distinct personalities of these 25 fonts, matching a few to the style of your particular event to narrow down the best potential candidates. When choosing wedding fonts, remember that legibility is of the utmost importance; always test your designs at the size they will be viewed by your invitees and guests before you have your wedding stationery printed.
And don't be afraid to experiment with design! A good rule of thumb is to pair an elaborate script font with a less attention-seeking sans serif font on announcements and invitations. If you're feeling lost or overwhelmed, don't worry: we have some stellar design advice about choosing right font for your project on our blog.
Finally, don't stress yourself out during your wedding font search. Just like your upcoming nuptials, always listen to your heart. When you find "the one," you'll know it when you see it.
Bonus: We have created a Pinterest Board of these same font designs to help assist in your wedding planning.
Credits: In addition to the many fonts listed above, the stock graphics Botanicals 05 & Botanicals 31 were used in the designs above.