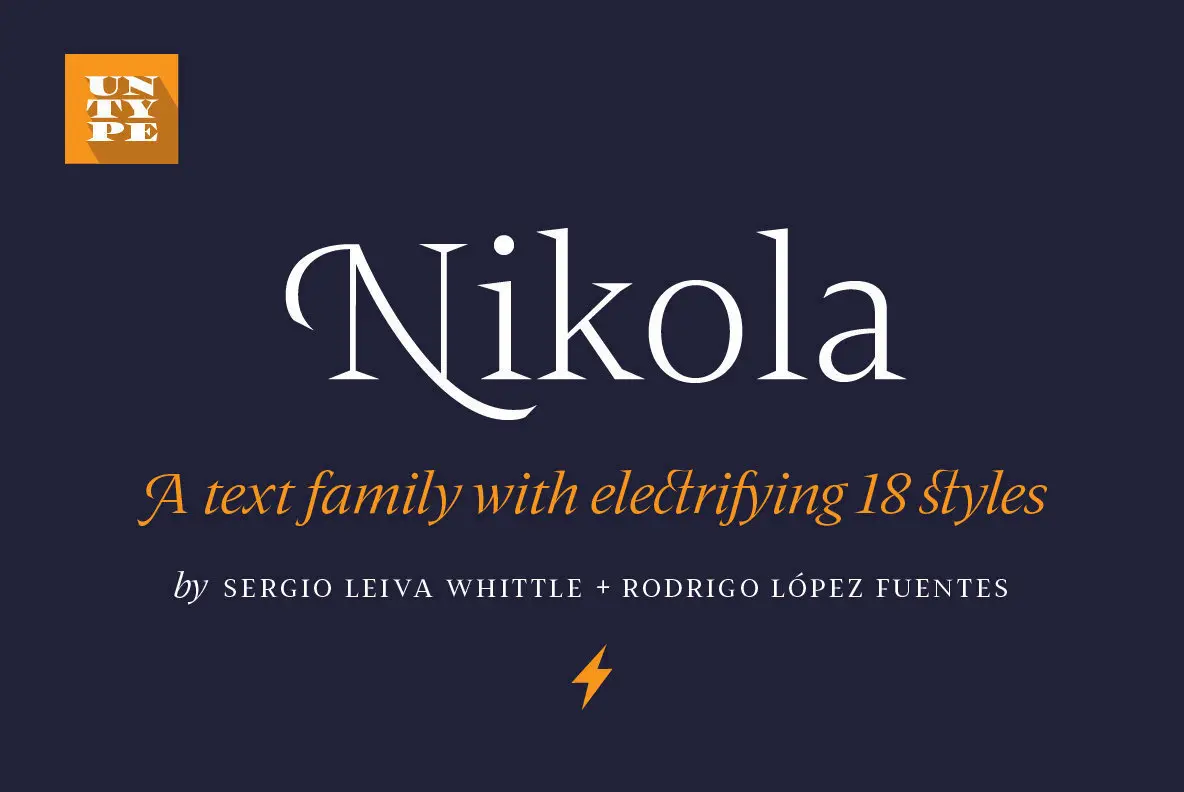 Located in Santiago, Chile, Untype is the independent type foundry of Rodrigo López Fuentes and Sergio Leiva Whittle. Established in 2017, Untype recently joined YouWorkForThem and we're excited to have them with us!
Rodrigo and Sergio are both accomplished type designers and their work focuses primarily on fonts that offer graphic designers an extensive range of flexibility and substantial multilingual support to meet the needs of a global design market.





Their first release on YouWorkForThem is Nikola, named as a tribute to the Serbian-American inventor and trailblazer, Nikola Tesla. This serif font carries itself with a classic elegance and an inimitable style, with letterforms that are beautifully formal with just a hint of mischief. Steeped in tradition, Nikola's architecture brings a glimmer of expressionism though its serifs and terminals, with balanced letters that provide a comfortable reading experience.
Just like the man who lived his life with infinite possibilities at his fingertips, the font Nikola extends the same critical attribute to the designers who use it. This family of 18 fonts is available in Thin, ExtraLight, Light, Regular, Medium, Heavy, Bold, UltraBold, and Black, with corresponding italics for each.
The range of weights make Nikola well suited to a wide variety of design projects that include headlines, editorials, long-form publishing, corporate letterhead and communications, advertising, logos, presentations, menus, event programs, formal invitations, displays, and signage. It's a beautiful choice for branding and identity projects, offering fluid design cohesion though multiple media outlets.





Nikola is positively electrified with a host of OpenType features that include case sensitive forms, capitals to small caps, discretionary ligatures, standard ligatures, numerators, denominators, fractions, ordinals, subscript, superscript, slashed zero, oldstyle figures, tabular figures, small caps, stylistic alternates, and swash.
The extent of Nikola's multilingual support is shocking, including Basic Latin, Western European, Euro, Catalan, Baltic, Turkish, Central European, Romanian, Vietnamese, Pan African Latin, Dutch, Afrikaans, Pinyin, and Igbo Onwu to cover more than 200 latin script languages for incredible global accessibility.
If Nikola is anything to go by, we're really looking forward to Untype's work in the future. Visit their portfolio so you can bookmark it and watch for new releases!