A Warm Sans Serif From TypeType Foundry: TT Wellingtons
April 5, 2018
---
In business since 2013, TypeType foundry was among the very first digital font foundries to be established in St. Petersburg, Russia. Founded by Ivan Gladkikh and Alexander Kudryavtsev, the foundry has collaborated with a number of graphic designers, typographers, and engineers over the years. One of the hallmark traits of TypeType's work is its ability to strike a balance that offers both contemporary design aesthetics and high versatility.
Since its inception, TypeType has added new members to its team. One such member is Philipp Nurullin, a designer who specializes in typography, type design, and web design. Philipp initially discovered a love for fonts and typography during a rather intensive font design course he completed in 2013. That experience took his work in an entirely new direction and he's collaborated on a number of fonts through TypeType foundry.





One of TypeType foundry's more recent releases is TT Wellingtons, designed by Philipp along with the TypeType team. With TT Wellingtons, Philipp strove to pair the style of early 20th century humanist sans serifs into the structure of modern geometric grotesks. He wanted to keep the overall structure simple while maintaining the tactile sense of handwritten letterforms. On top of that, Philipp and the TypeType team wanted to make the finished type design as functional as humanly possible.
The humanist details are what make TT Wellingtons such a warm sans serif; where many sans serifs lean toward indifference, or at the very least, total neutrality, this one is amicable and friendly. Its posture carries a familiar geometric structure, which further leads to a sense of approachability. Messages conveyed through TT Wellingtons are clear and confident without heavy-handed authority.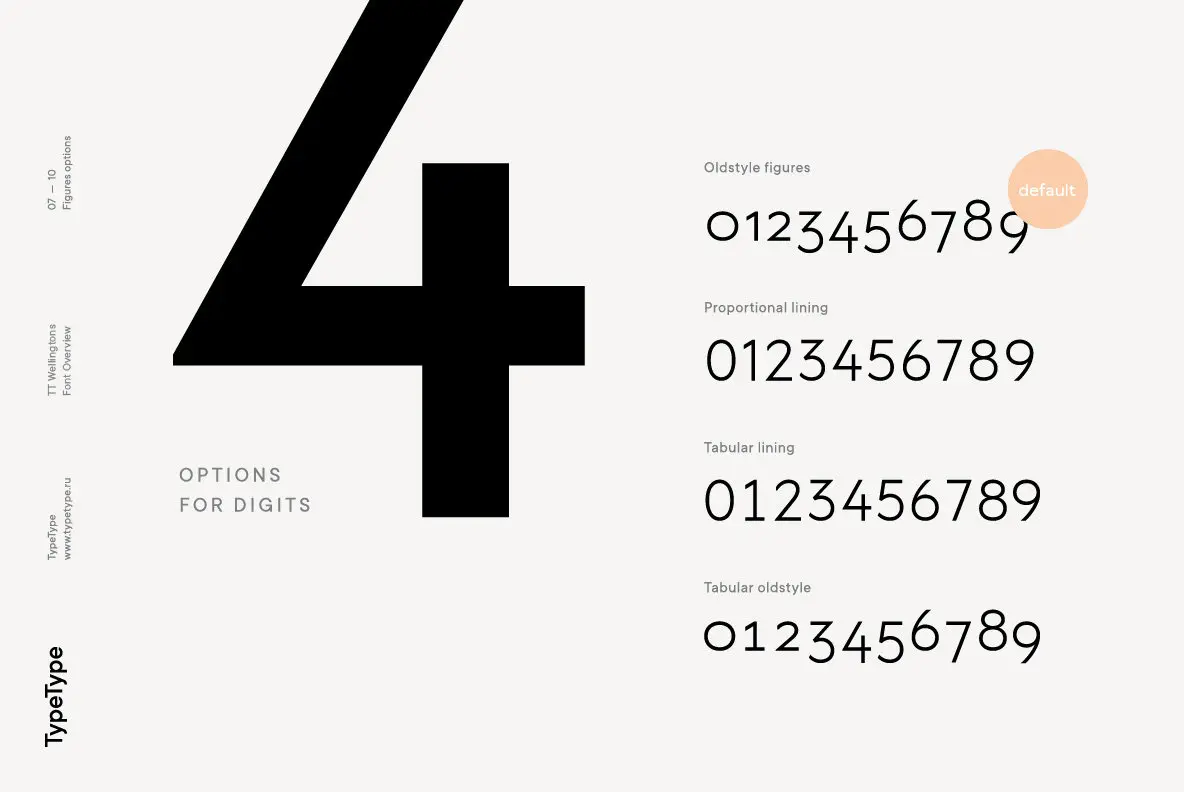 The complete family is comprised of 18 fonts in weights that include Thin, ExtraLight, Light, Regular, Medium, DemiBold, Bold, ExtraBold, and Black, with corresponding italics for each. Its range of weights makes TT Wellingtons appropriate for a broad range of design applications, including headlines, editorials, body copy, publishing, displays, signage, branding, identity, corporate correspondence, white papers, infographics, presentations, product packaging, and logo design. Its clarity in small point also makes it a solid choice for projects that require text in small point, like business cards, labels, fine print, and product instructions.
As with most of TypeType's font releases, TT Wellingtons offers a host of additional features, including contextual alternates, case sensitive forms, discretionary ligatures, standard ligatures, numerators, denominators, fractions, lining figures, ordinals, tabular figures, and stylistic alternates for greater versatility. Its multilingual support extends to Basic Latin, Western European, Euro, Baltic, Turkish, Central European, Romanian, Pan African Latin, Latin Ligatures, and Basic Cyrillic for extensive global accessibility.
TypeType currently offers almost 40 products through YouWorkForThem, a range of design styles that include a bit of everything from elegant scripts to brush scripts, sans serifs, serifs, slab serifs, and display fonts. Visit their portfolio to view the rest of their work and bookmark it so you won't miss any of their future releases. They're always working on something new and we can't wait to see what comes out of their studio next!