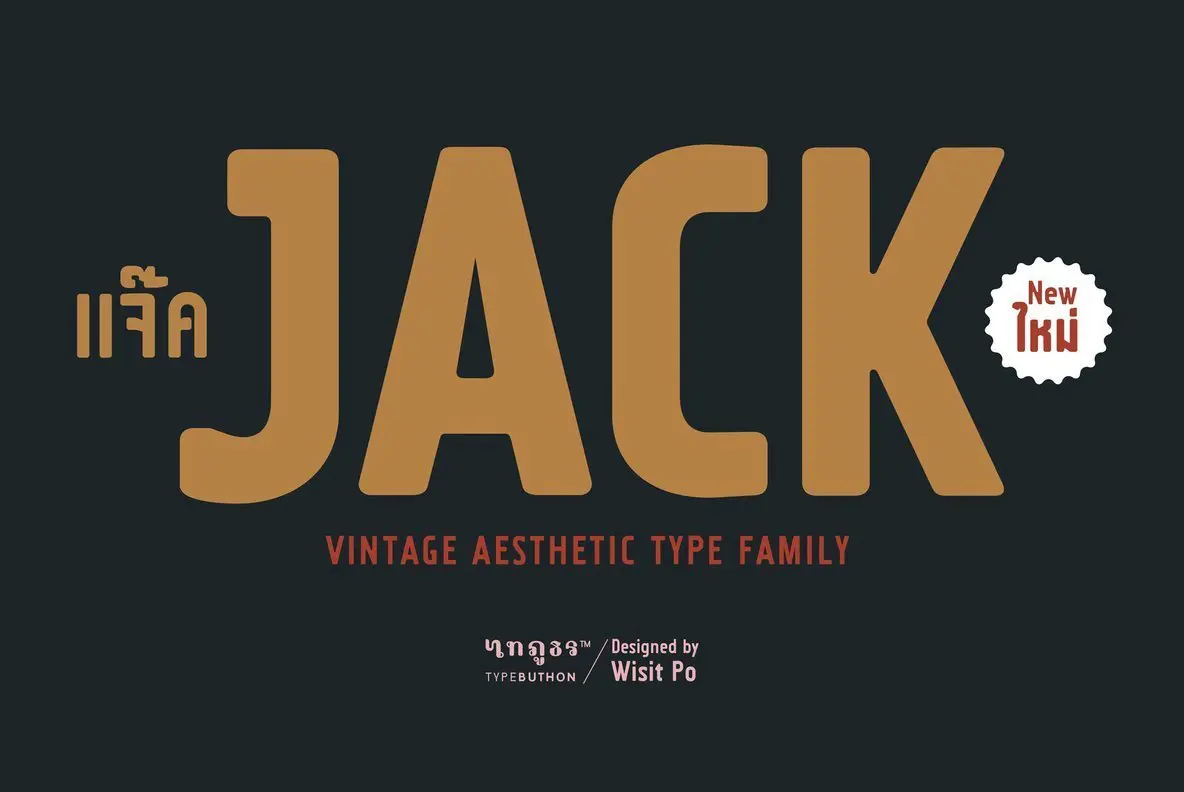 Based in Bangkok, Wisit Potiwat is a graphic designer who works as a university lecturer on graphic and information design. With a strong background in branding, Wisit also has a knack for typography. His work includes serifs, sans serifs, scripts, and display fonts, covering a little bit of everything.
A particularly strong element of Wisit's typography is the inclusion of Thai script. While many type designs offer extensive multilingual support for countries all over the world, dedicated support for the Thai language is quite often lacking. Wisit's typography helps to fill that gap, giving designers exactly what they need when they're working on projects specifically aimed at a Thai audience.
One of his more recent releases is Jack, a retro sans serif font family with a strong, solid architecture. Inspired by vintage book cover designs, Jack carries a letterpress aesthetic that is simple, clean, and easy to read. With subtly softened corners, Jack speaks with a clear voice that demands attention without force or aggression. It's confident and determined, conveying messages with authority and kindness in equal measure.





Available in Regular and Bold, with corresponding italics for each, Jack also offers a Rough version of its regular weight. Jack Rough is a little distressed on the surface, adding a weathered and naturally-aged touch to any design.
Jack is well suited to projects of all kinds, including headlines, advertising, book covers, letterhead, logos, signage, displays, posters, product packaging, apparel, merchandise, identity, and branding.
Jack offers a full set of upper and lowercase letters, punctuation, numerals, and currency figures. It extends multilingual support to Basic Latin, Western European, Euro, Pan African Latin, Basic Greek, and Thai for great accessibility.





Wisit Po currently offers just six products through YouWorkForThem but we're looking forward to seeing more of his work in the future. Particularly if you're a designer who needs fonts that offer Thai language support, visit and bookmark Wisit's portfolio so you won't miss out on any of his upcoming releases.