Tom Chalky is a graphic designer, typographer, and illustrator based in the United Kingdom. A skilled hand-letterer, Tom is "obsessed with the handwritten, handpainted, and imperfect." His work carries an undeniably human touch, favoring work that balances vintage and contemporary aesthetics. 
He enjoys crafting hand-written type designs and restoring illustrations from eras long since passed. Tom is also highly supportive of the careers of other graphic designers, which inspired him to not only provide digital art brushes, textures, illustrations, and type designs for their work, but to co-found InspirationHut, a blog that offers an endless array of resources, tips, and articles for those working in the industry.
Tom's work is varied in terms of style and aesthetic, but he has a clear passion for vintage artwork and typography. One of his more recent releases through YouWorkForThem is Revive 80, a complete font family that will bring the 1980s back to life right before your eyes.
Even though the 80s are three decades behind us — yeah, let that sink in for just a moment — the design trends of the era are still as popular as ever. With Revive 80, Tom wanted to build a cohesive and complete collection of 80s-inspired typefaces, one that would be as versatile as possible. To that end, he crafted three sans serif typefaces developed to work well in different widths and heights. 
The type designs in Revive 80 work beautifully alone or in conjunction with one another.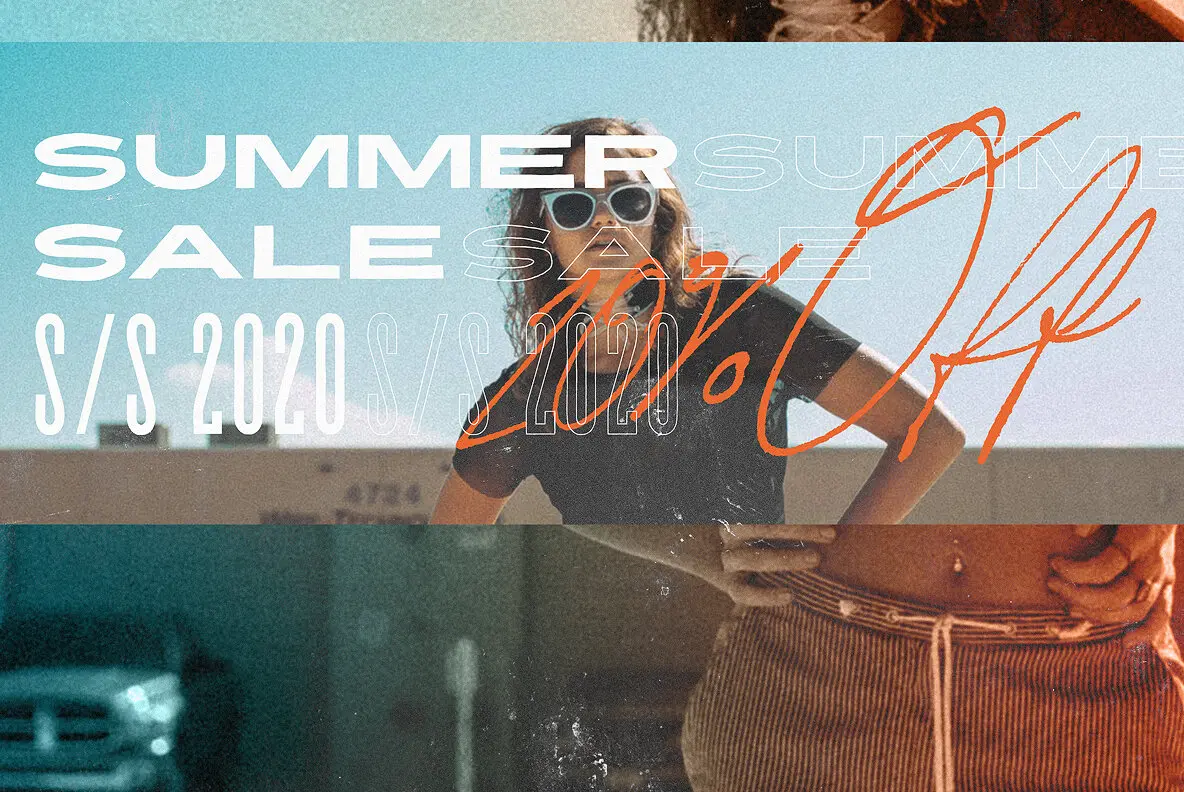 Revive 80 Phatt is available in solid and outline style. This variant is a heavy-handed sans serif with bold architecture and all-caps lettering. Revive 80 Phatt is ideal for everything from displays and signage to album art, product packaging, logos, merchandise, headlines, posters, and any project that needs a hefty retro font as the focal point.
Revive 80 Signature and its Smooth counterpart is a right-leaning cursive signature script written in a breezy hand. This pair of fonts is reminiscent of the handwritten style of the 80s with a contemporary spin. It's beautiful as a secondary accent to one of the heavier type designs in this collection but also works very well on its own. Revive 80 Signature is great for album artwork, apparel, logos, website designs, marketing materials, and social media imagery.
Revive 80 Tall and Tall Outline feature all-caps lettering in a super-condensed style. Long and impossibly lean, this pair of fonts is well suited to any project that needs to make the most of horizontal space, including website designs, signage, displays, titling, logos, and business cards.
Rounding out the entire family, Revive 80 Wide and Wide Outline both carry a wide stance that gets noticed. It's ideal for titling, logos, product packaging, posters, marketing materials, book covers, album artwork, merchandise, and apparel.
Revive 80 extends multilingual support to Basic Latin, Western European, Euro, and Pan African Latin languages for global accessibility.
Tom Chalky currently offers 26 products through YouWorkForThem, including a wide range of handcrafted type designs in an array of styles. Visit his portfolio to check out the rest of his work and bookmark it so you can check back often for new releases!