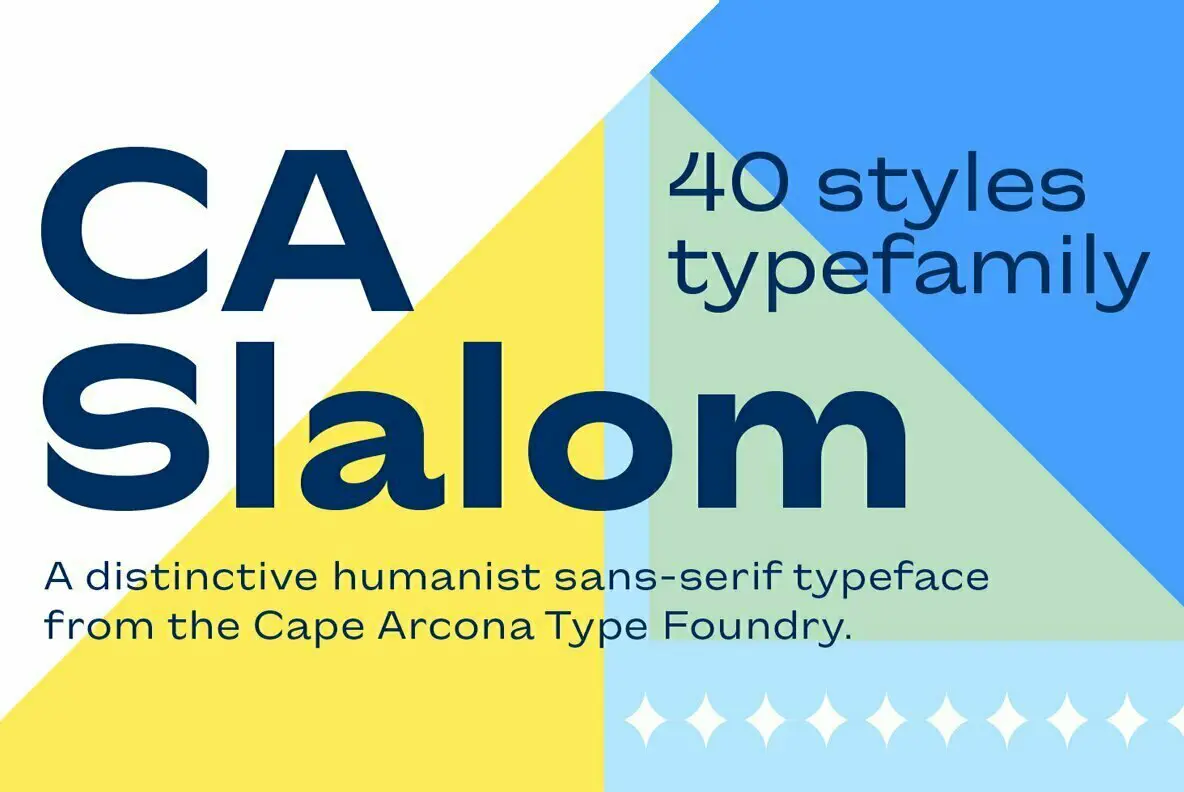 The phantasmogorical reality of the Cape Arcona Foundry and a subtle, perfectly styled font like CA Slalom might be hard to reconcile. The idea of "artist as Bohemian" is not new, but in the case of the two gentlemen behind (and occupants of) Cape Arcona, a particularly unique story belies the many practical uses of CA Slalom and other Cape Arcona fonts.
Cape Arcona was established in 2002 to promote fonts used by Thomas Schostok in his magazine Beast, which appeared in 12 issues. Or wait…13 issues? We've looked at every page of every issue. Beast combines amazing art, typography, graffiti, collage, sex, social commentary, humor, and so much more. Whether you find it risqué or brilliant, Beast's originality and daring are timeless. These are images with a distinct voice, and that voice is Schostok's. Check out all the cool, colourful things this guy does. Here's some, and here's some more.
This inimitable singularity defines everything Cape Arcona produces, whether the endeavour is collective or something specifically from Schostok or his partner Stefan Claudius. Consider Claudius's design company Sichtvermerk, which presents an astounding collection of book design, corporate art, posters, and more. In addition to his funnier antics, Claudius is the consummate professional—skilled, established, serious, successful.





When two brilliant fellows like these come together, nobody should be surprised at great results. But they are interesting as a duo well beyond their work. For instance, here they are doing a press conference in 2006. What's not to love? It's been suggested that there is one writer for this blog that occasionally "builds out" the characters of certain typographers by adding a little of this and that. The gents at Cape Arcona do not require any extra lacquer.
For instance, one of them worked on the Ever Given, the freighter made famous by sealing off the Suez Canal in 2021. Note—he was not on the ship during the infamous mess that revealed one freighter, acting as a giant cork, could halt world shipping. However, he was on the boat in 2019 when the Ever Given collided with the Finkenwerder near the Port of Hamburg. Arguably incidental, it's that type of detail that makes Cape Arcona's Declaration of Normality seem like wishful thinking, despite the correspondingly named font making a somewhat stronger argument.
But at the end of the day, it's their outstanding work that makes the grade. It's a great collection because every font from the utilitarian to the decorative is imbued with their hyper-creative brains—the edginess, the humour, the ambition to stand apart.
And the straight up skill. Funny guys, for sure, but also heavyweight craftsmen and artists. Capoli is a great example—it looks great technically, and the flair it radiates makes the viewer want to be in any room that font is a part of. We want that company. We want those drinks. We want that memory.





Let's close it out with today's feature, CA Slalom. Cape Arcona states: "The starting point for CA Slalom was the aspiration to create a contemporary interpretation of classics like Gill and Antique Olive in terms of aesthetics, flexibility and usefulness. The outstanding S soon became the visual hook and starting from the extra-bold extended weight, CA Slalom evolved into a huge family with four widths."
CA Slalom is a perfect blend of contemporary purpose and vintage hip. With its unique curviness, it has just enough Italian sports car flash to rev the motors beyond functionality. It's got the Cape Arcona vibe—it's a font, words, letters, books, packages, signs, posters…but you don't have to look too closely to find Schostok and Claudius. The hip is always in there. We want to say more and learn more, and most definitely will.
But for now, open the door to Cape Arcona with CA Slalom. More soon.