As a graphic designer, crafting stunning presentations for your app or website designs is crucial to impress clients and showcase your work. Apple device mockups play an essential role in achieving this goal, and YouWorkForThem offers a wide range of high-quality mockup templates tailored for Apple products. In this blog post, we'll explore five of the best Apple device mockups available on our site and provide some useful tips on using these templates with Photoshop's smart objects feature.
Top 5 Apple Device Mockup Collections at YouWorkForThem







This bundle includes 12 high-quality Apple device mockups that are perfect for showcasing website designs, app designs, and UI designs. The mockups, including the Apple iMac, iPhone 12, Apple Pro Display XDR, iPad Pro, feature a clean and modern design with smart objects for easy customization.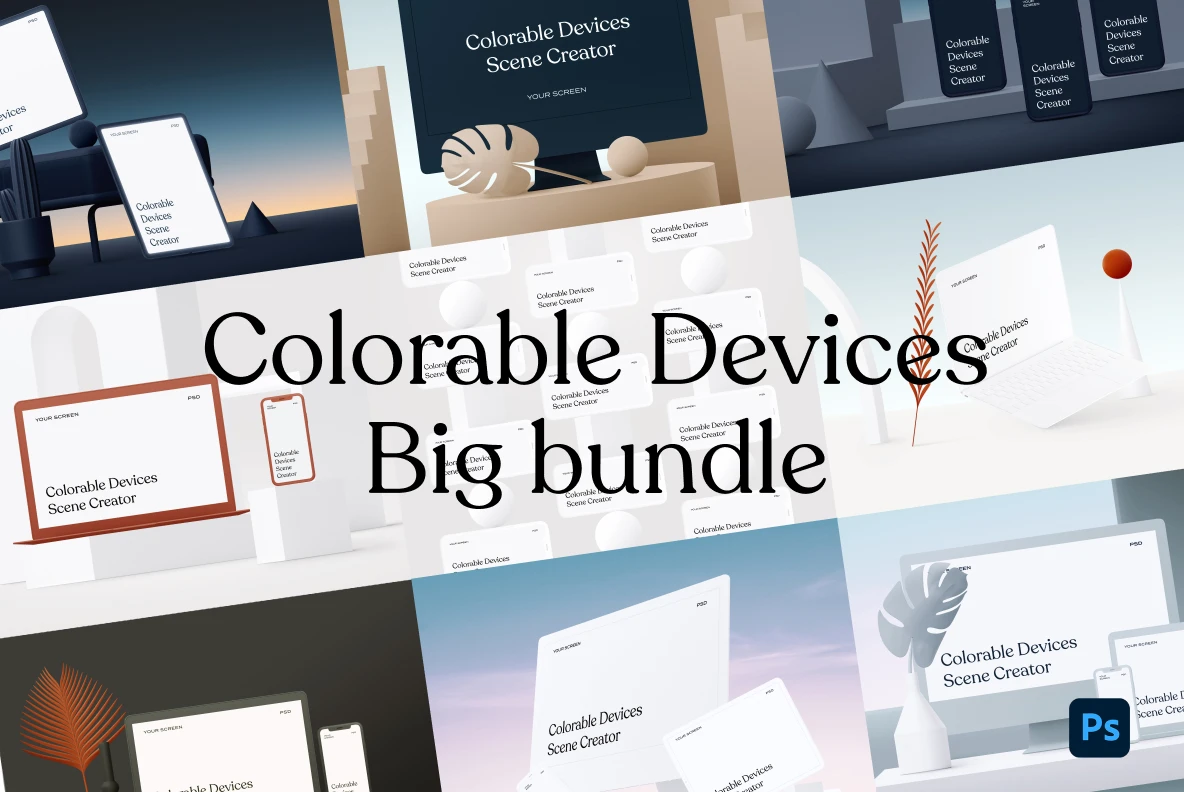 This mockup scene creator includes over 41 Apple devices and items that designers can easily use to create their own unique mockups. The devices included, iPhone, Macbook, iMac, iPad Pro, and Apple watch, are fully customizable with smart objects and include a variety of colors and angles.








This mockup set features 24 high-resolution Photoshop MacBook Pro mockups in a modern and clean style, all provided in 6000x4000px / 300dpi resolution. This amazing collection of mockups includes smart objects for easy customization and can be used to showcase website mockups, phone app mockups, application mockups, and various other graphic design projects.







Harmonais Visual has composed this amazing 13-piece Apple device mockup set featuring iPhones, iPads, and MacBook Pros. Ideal for displaying website designs, app designs, and UI concepts, these mockups use Photoshop smart objects for easy customization. Natural sunlight enhances the realistic and minimal presentation style, making this collection perfect for a softer and more humanistic tone.






This robust bundle offers 6 high-quality mockups for Apple devices, including the MacBook Pro, iPhone 13, iPhone 13 Pro, Apple Watch Series, and a conceptual Apple TV mockup. The Tech Mockup Bundle Vol. II provides a wide selection of scenes and perspectives, making it suitable for any design project. Provided at 6400x4000px in resolution and designed by Studio Family, this collection of device templates makes any digital design idea shine.
How to Use Apple Device Mockups for Presentation Designs
Choose the Right Mockup for Your Project: Look for a mockup that matches the device and design you are presenting. Consider the style, angle, and resolution of the mockup.
Customize the Mockup to Match Your Design: Use smart objects to easily add your design to the mockup. Customize the device color, background, and other elements to match your design.
Use Smart Objects for Easy Editing: Smart objects, which are provided in our Apple device mockups, allow you to easily edit the design without affecting the rest of the mockup. This saves time and ensures a professional-looking result.
Add Realistic Reflections and Shadows: Use Photoshop to add realistic reflections and shadows to the mockup, making it look more realistic and professional.
Showcase Your Design in Various Angles and Perspectives: Use different scenes that provide multiple angles and perspectives to showcase your design in the best possible way. This can help clients visualize how the design will look in real life.
Using Smart Objects in Photoshop for Mockup Design
One of the key features of these mockup templates is their compatibility with Photoshop's smart objects. Smart objects make it easy to insert your designs into the mockup without losing quality or resolution. To use smart objects, follow these simple steps:
Open the mockup PSD file in Photoshop.
Locate the smart object layer in the Layers panel, which is usually labeled as "Your Design Here" or something similar.
Double-click the thumbnail of the smart object layer to open the smart object in a new window.
Replace the placeholder design with your own design, ensuring that it's properly aligned and scaled.
Save and close the smart object window. Your design will now automatically update in the main mockup file.
Customize any other elements in the mockup, such as background colors, shadows, or device colors, if the template allows it.
Save your final presentation as a JPEG or PNG file, ready to be shared with clients or included in your portfolio.







Slideshow: Apple iPhone iPad Mockups (Dark Mode)
Discover the Perfect Apple Device Mockups to Bring Your Designs to Life
Apple device mockups are an essential tool for graphic designers looking to showcase their work in a professional and engaging way. By using high-quality mockups, designers can save time, improve the visual appeal of their design, and increase the chances of getting client approval. Choose the right mockup, customize it to match your design, use smart objects for easy editing, add realistic reflections and shadows, and showcase your design from different angles to make the most of Apple device mockups.
At YouWorkForThem, we offer instant downloads of our Apple device mockups and other graphic design resources, making it easy for you to get started on your project right away. Plus, our cash back rewards program allows you to earn money back on your purchases, so you can save even more. Our commitment to accessibility, care, and attention to detail has earned us a loyal following of corporate clients, including brands like Amazon, Google, Whole Foods, 7-11, Starbucks, Corona Beer, Dropbox, Tofurky, Samsung, and many more.
Join our community of satisfied customers and start creating stunning presentations with our Apple device mockups today.