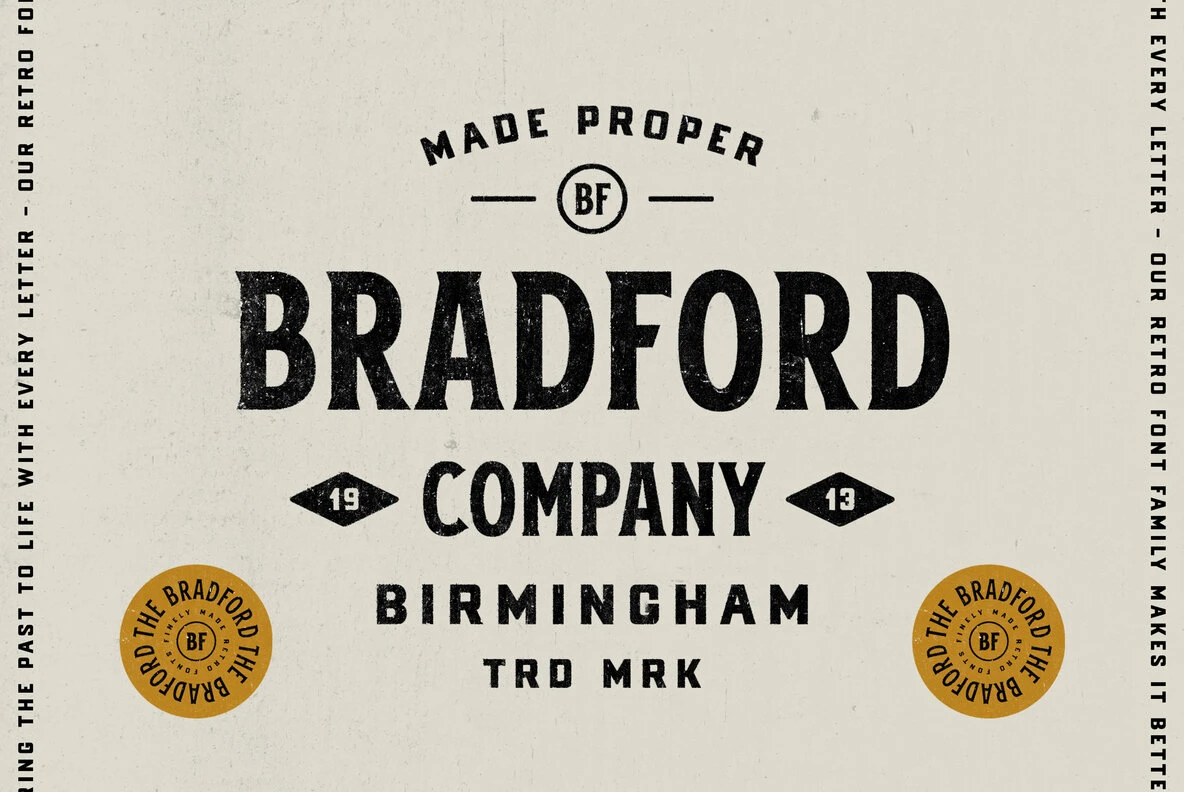 The Bradford font is a versatile and eye-catching typeface that seamlessly combines vintage stylish font elements with modern flair. Ideal for projects requiring font handwriting calligraphy orange slight cursive font style, this unique font family effortlessly fuses Scripts, Serifs, and Sans Serifs, making it an indispensable asset for graphic designers.
Creating memorable package designs, logos, and corporate identities often necessitates the harmonious blend of distinctive font styles: Scripts, Serifs, and Sans-Serifs. Each font type possesses its own unique personality, and when skillfully combined, they can create a powerful and unforgettable visual impact. For example, a classic baseball font could be balanced with a casual brush font, like on a sports-themed poster. The strategic use of different fonts, like those in Bradford font, can also enhance readability and elevate the overall design, much like how magazines utilize titles and headers.





Discover the Perfect Font Synergy with Bradford
Selecting the ideal font from the vast digital realm can be an overwhelming task. In these situations, font families specifically designed to complement each other, like font duos or trios, can be the perfect solution. The Bradford font family, meticulously crafted by Davide Bassu, is a prime example of seamless font cohesion, making it an excellent choice for those seeking retro fonts for Photoshop, Canva, Figma, Procreate or in any other modern design application.
Effortless Font Pairing with the Bradford Font Family
The Bradford font family features a Script, Serif, and Sans-Serif, perfect for projects involving vintage calligraphy letters or even an old car font style. Each font has been thoughtfully designed to ensure maximum flexibility and readability, making it a breeze to find the perfect match for any design project. The best part is that these three fonts are expertly crafted to work together in perfect harmony, eliminating the need for time-consuming font matchmaking.
The Script font exudes elegance and fluidity with its hand-drawn appearance, infusing a personal touch into any design. The Serif stands bold and robust, evoking a classic feel, while the Sans Serif is clean, modern, and highly readable. When combined, these fonts form a harmonious ensemble that allows you to focus on creating visually stunning designs.





Explore the Diverse Applications of Bradford Font
Bradford is a versatile choice for logo design, branding projects, headlines, body copy, product packaging, social media posts, visual identities, poster designs, publishing, and more. The font shines in both digital and print formats. The Script, Serif, and Sans-Serif fonts come in 9 unique styles, and Bradford also includes 20 pre-made logo templates and 25 handmade vintage illustrations as bonus features. The beautiful interplay of the Bold Aged's vintage charm and the sporty Script offers a glimpse of the endless creative possibilities.





Experience the World of Font Possibilities with YouWorkForThem
At YouWorkForThem, we strive to provide a comprehensive one-stop-shop for all your font needs. We offer design tools that we love ourselves: user-friendly, inspiring, and fun resources for all your design projects. If you're a fan of Bradford, we highly recommend exploring our vast library of font duos and trios designed to simplify your creative process. We also provide customized font licensing options that cater to your clients' business objectives. For all your font requirements, both aesthetic and commercial, reach out to us at YouWorkForThem – we've got you covered.