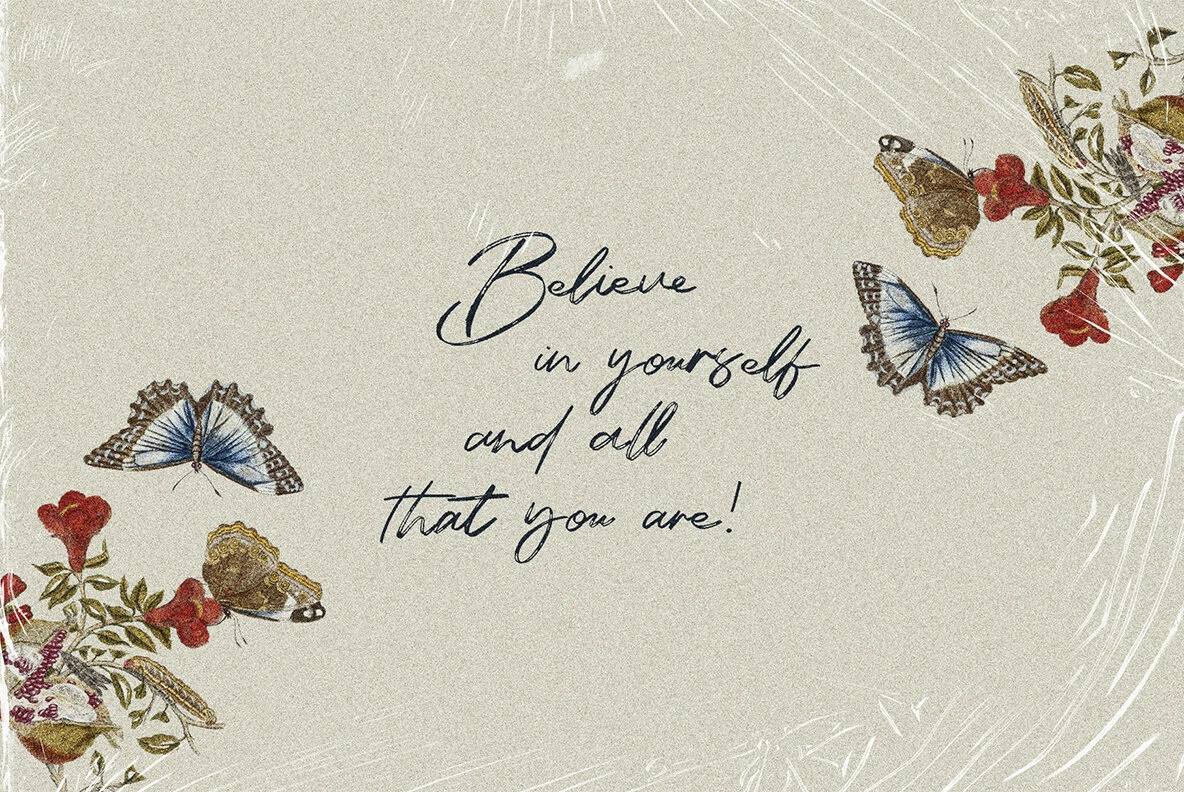 The Renaissance of Handwritten Fonts
In the digital age, sterile typefaces often rule. Yet, the handwritten font emerges as a nostalgic hero. Like pages from a personal diary, these fonts carry unique charm. They breathe life into every design. Especially, they are loved by graphic designers. Next, they become the secret weapons of advertising agencies. Finally, they serve as the crown jewels of design studios. Among them, "In Love With Rome," shines brightly. Meticulously designed by SilverStag, it stands out. It's indeed a masterpiece in the beautiful genre of handwritten typefaces.
In Love With Rome – A Testament to Timeless Elegance
SilverStag introduces "In Love With Rome" – a brand new handwritten font that exudes elegance and sophistication. Every stroke in this typeface speaks volumes about the delicate craftsmanship behind it. SilverStag handcrafts every single letter in this stunningly unique typeface. The beauty of the font is evident in the 274 alternate letters and ligatures it includes, giving designers the tools they need to create truly bespoke designs.
Save 20% off anything at
YouWorkForThem
today with coupon code BLOG20!
This font is more than just a pretty face, it is a dream-come-true for designers. If you're looking for a handwritten script font that can elevate your designs, be it for a wedding invitation, a branding project, or even sprucing up your social media posts, this font is a top contender. It's the epitome of femininity and modernity and strikes the perfect balance between the two.






Features that Set "In Love With Rome" Apart
"In Love With Rome" is a font that speaks in various tongues, thanks to its full language support. It houses both lowercase and uppercase letters, numerals, and punctuation, making it a versatile tool for any creative artist. The feature that makes it one of the best handwritten fonts is the availability of over 274 ligatures and alternates. The beauty of this font make it a remarkable resource for any design project.





YouWorkForThem: Fostering Creativity and Innovation in the World of Design
At YouWorkForThem, our passion for providing the best design resources for digital designers has been unwavering. For over two decades, this commitment has manifested in providing fast, easy, and instant downloads on all purchases, and, moreover, rewarding our loyal customers with cash back rewards.
Transitioning to our licensing work, we take pride in presenting stylish fonts like "In Love With Rome," serving as a hub for designers to bring their visions to life. As an independently owned entity, we understand the value of investment and care in nurturing great brands. Consequently, we constantly strive to offer easy personal and corporate level font and stock art licensing.
Our history to promoting creativity and unique design solutions make us a choice for graphic designers, design studios, digital designers, and creative artists. We hope that our commitment to quality resources like "In Love With Rome" will continue to inspire and support the creative world. To keep abreast of more such exciting new releases, we invite you to follow us on Instagram. Your continuous support help us bring more such creative tools to the table. Thank you for choosing YouWorkForThem for your design resource needs.