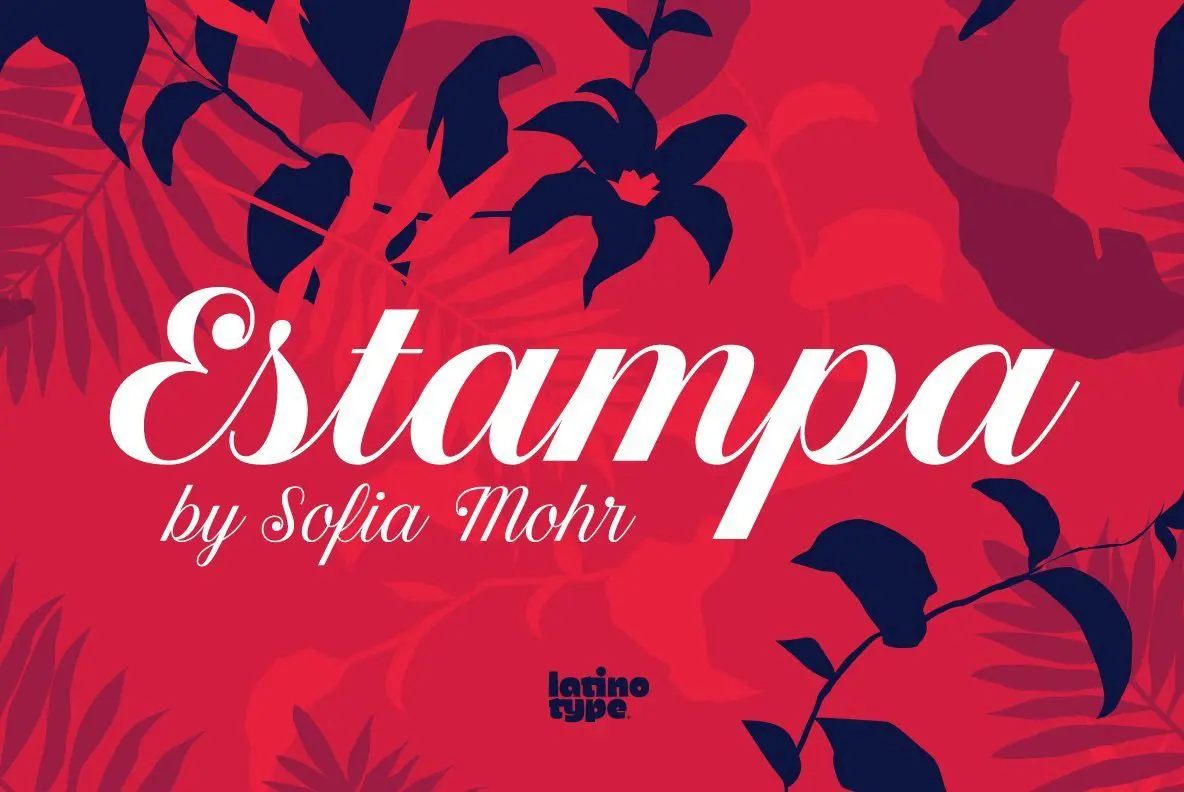 LatinoType is a Chilean digital type foundry that is dedicated to creating and promoting typography that is both aesthetically pleasing and highly functional in any graphic design setting. Established in 2007, LatinoType is on an unstoppable mission to support the careers of fellow typographers while striving to put Latin America on the map of global typography. Operated by a trio of brilliant graphic designers and typographers in their own right — Miguel Hernández, Luciano Vergara, and Daniel Hernández — LatinoType is quickly becoming one of the most recognized digital type foundries in the world.
Their recent releases include the elegant script typeface, Estampa Script. Designed by Sofia Mohr, Estampa Script carries a high contrast between thick and thin strokes, with graceful teardrop terminals reminiscent of Didone typefaces.





Sofia first took an interest in typography while studying architecture, although she admits that she always harbored warm feelings toward typography and graphic design. In 2013, she had an opportunity to attend a typography design program at the Universidad Católica de Chile and loved the experience. Her first font design, Café Brasil, was selected as part of the 2014 Latin American typography biennial, and was further accepted for purchase at various re-seller sites. Overall, the type design received great feedback, motivating her to continue designing fonts and to consider typography as a full time profession.
Sofia feels that an amazing font must incorporate a concept through its design process, although she told us that it can be difficult to do so. The initial idea is what coaxes a design through the creation process, yielding a more consistent result and providing the finished design with a much clearer purpose.





In Portuguese, "estampa" means patterns or printing, specifically in reference to illustrations for textile applications. "Being Brazilian and living in a different country (Chile), has always pushed me in trying to rescue aspects of my own culture," Sofia mused. "I think that allows me to feel closer to my origins."
Sofia has taken a special interest in creating relationships between fonts and patterns, trying to develop projects that would explore those concepts. "While developing Estampa, I also worked on designing a set of patterns that could work together with this font, exploring the idea of wild nature-life in general," she explained. "Part of that work is displayed on the specimen and promotional material I'm using to sell the font and also can be purchased separately through other selling channels. It was a great exercise since it allowed me to see the font being used the way I imagine it, and also was a completely different approach for the specimen design."
Estampa Script is particularly well-suited to fashion, textiles, and interior design applications. The varied strokes certainly do pay homage to the natural world, with forms that perhaps resemble exotic leaves or grasses that bend with the weight of heavy dew drops on a humid, misty morning in the tropics. The elegant curls of Estampa Script are quite at home on stationery, invitations, glamorous advertisements, fashion displays, screen printing, and any application that wishes to bring a touch of flora into the fold.
Estampa Script is available in five weights that range from Extra Light to Bold. Multilingual support includes Basic Latin, Western European, Euro, Catalan, Baltic, Turkish, Central European, Romanian, Pan African Latin, Dutch, and Afrikaans for global accessibility.





Currently, LatinoType offers more than 130 products through YouWorkForThem and you'll definitely want to visit and bookmark their portfolio because they add new products all the time. We're looking forward to seeing more of Sofia's work as time goes on. While she admits to having a bunch of ideas she wants to develop, she intends to further explore her relationship with Brazilian culture and wildlife.