The Allure of Retro Graphics
In the realm of graphic design, the allure of the past is undeniable. Retro graphics, with their nostalgic charm and timeless appeal, have a unique way of connecting with audiences. They evoke a sense of familiarity, transporting us back to simpler times while infusing modern designs with a touch of vintage flair. This blend of old and new creates a distinctive aesthetic that can set the tone for a variety of design projects.
Retro graphics are not just about recreating the past; they're about reinterpreting it in a way that resonates with today's audiences. They can add depth and character to a design, making it more engaging and memorable. Whether it's a bold, retro logo that catches the eye or a subtle, vintage decoration that adds a touch of elegance, these elements can make a design stand out.
Retro Graphics in Modern Media
In today's digital age, retro graphics have found a new home in various forms of media. From Instagram reels and TikTok posts to YouTube videos, these designs are being used to create content that is visually appealing and emotionally engaging. They add a layer of nostalgia that can make content more relatable and engaging, helping to create a stronger connection with the audience.
For instance, a TikTok video featuring a vintage filter can transport viewers back in time, creating a sense of nostalgia that enhances the storytelling. Similarly, a YouTube video with retro graphics can create a visually striking thumbnail that stands out in the sea of content, attracting more views and engagement.
Retro Graphics in Branding and Packaging
Retro graphics also play a crucial role in branding and packaging. They can help to establish a brand's identity and set the tone for its visual communication. Whether it's a food packaging design that harks back to the good old days or a brand logo that combines modern elements with a retro vibe, these designs can make a brand more recognizable and memorable.
For example, a food brand might use vintage designs on its packaging to evoke a sense of nostalgia and authenticity, appealing to consumers' emotions and creating a strong brand connection. Similarly, a modern brand might incorporate retro elements into its logo design to stand out from the competition and create a unique brand identity.
One designer who has mastered the art of creating stunning retro graphics is Edi Gunawan. His designs beautifully encapsulate the charm of the past while resonating with the aesthetics of the present, making them a perfect choice for a wide range of design projects.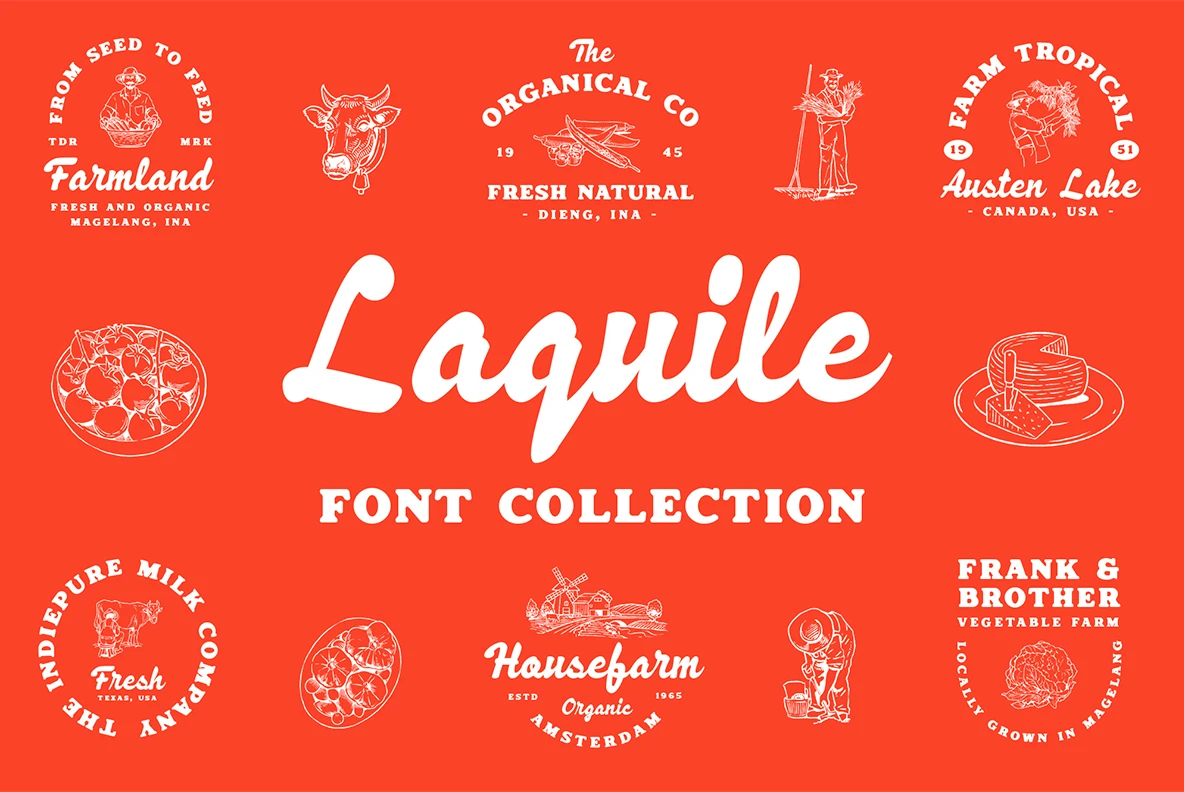 Edi Gunawan: A Maestro of Vintage Design
Edi Gunawan, a graphic and type designer based in Magelang, Indonesia, has a knack for creating designs that beautifully blend the old with the new. His portfolio is a treasure trove of vintage logos, retro designs, and antique decorations that captivate the eye and spark the imagination.
One of his standout creations is the Laquile Font, a vintage-inspired typeface that exudes a sense of nostalgia. With its elegant curves and classic aesthetic, it's perfect for projects that require a touch of retro charm.







Retro Logos: A Nod to the Past
Retro logos are a significant part of Gunawan's portfolio. They hark back to a time when design was simple yet impactful. The Cralter Font, for instance, is a retro logo that combines modern design elements with a vintage twist. Its bold lines and distinctive style make it an excellent choice for brands looking to make a statement.






Vintage Decorations: Adding a Touch of Nostalgia
Gunawan's vintage decorations are another highlight of his work. These designs, such as the Coffee Restaurant Graphics, add a touch of nostalgia to any project. They're perfect for creating a vintage t-shirt design or adding a retro feel to a modern space.







Retro Modern Graphics: The Best of Both Worlds
Gunawan's retro modern graphics are a testament to his ability to blend different design eras seamlessly. His Hittedal Font is a perfect example of this. It combines the boldness of modern design with the charm of retro typography, resulting in a font that's both versatile and visually appealing.
YouWorkForThem: Your Gateway to Exceptional Design Resources
At YouWorkForThem, we're proud to host Edi Gunawan's remarkable designs. With over 20 years of experience in providing design resources for digital designers, we understand the importance of quality and variety. Our website offers instant downloads on all purchases, allowing you to start working on your projects immediately. Plus, our cash back rewards program ensures that you get the best value for your money.
We also offer easy personal and corporate level font and stock art licensing, making it simple for you to use our resources in your projects. As an independently owned company, we're committed to supporting talented designers like Edi Gunawan and helping our customers bring their creative visions to life.
Embrace the Charm of Retro Graphics with YouWorkForThem
In the world of design, the past and the present often intertwine, creating a rich tapestry of styles that inspire and captivate. Edi Gunawan's retro graphics and vintage designs are a testament to this, offering a unique blend of nostalgia and modernity that resonates with audiences.
At YouWorkForThem, we're proud to be a part of this creative journey. Whether you're looking for a vintage logo design, a retro t-shirt design, or antique decorations, our platform has you covered. Explore our extensive collection of design resources and let the past inspire your future creations.
Follow us on Instagram for a daily dose of inspiring designs and to discover more products like these.