As a graphic designer, you understand the importance of choosing the right font for your projects. In an increasingly globalized world, having a diverse range of typefaces at your disposal, including Thai fonts, is essential. Thai fonts not only enhance the personal appeal of your designs within the Thai market, but they also enable you to broaden your reach and appeal to a more extensive global audience. Designing Thai fonts, however, requires extra effort due to their unique complexity and intricate glyph structure. The Thai script typically contains over 100 glyphs, including consonants, vowels, and tone marks, which must be designed and combined harmoniously to create a functional and visually appealing font.
Moreover, tapping into the Thai market is crucial for major global brands aiming to expand their reach in the rapidly growing Southeast Asian economy. Having a font that supports the Thai language is imperative for these brands, as it enables them to communicate effectively with their target audience in the region.
In this blog post, we introduce the top 9 Thai fonts every graphic designer needs, available for instant download and licensing at YouWorkForThem. We also provide extended customer support and customization for Thai language, so don't hesitate to contact us for details!
Top 9 Must-Have Thai Fonts for Graphic Designers
Mosse Thai, a sleek and contemporary sans-serif typeface, presents exceptional readability while maintaining a chic, modern aesthetic. Its cutting-edge design makes it an ideal choice for various applications, such as web design, app interfaces, and branding projects, where it excels in establishing a powerful visual identity. Encompassing an extensive collection of over 700 glyphs, Mosse Thai offers comprehensive language support for not only Thai but also Basic Greek and Basic Latin language. This expansive character set enables designers to reach diverse audiences and create striking, multilingual marketing materials with ease. Embrace the refined style of Mosse Thai for your design projects and experience the fusion of beauty and functionality in this remarkable typeface.
Srisurywongse artfully blends the distinct characteristics of Latin serif styles with the contemporary charm of Thai modern aesthetics. This innovative fusion, designed by Wisit Po, breathes new life into traditional serif fonts by meticulously refining the curves and contours, resulting in a captivating modernist touch. Imbued with a timeless appeal, Srisurywongse is exceptionally well-suited for a diverse array of creative applications. Whether you're designing striking posters, commanding titles, enchanting books, immersive magazines, bespoke packaging, or establishing a unique brand identity, this highly contrasting typeface is eager to elevate your creative projects.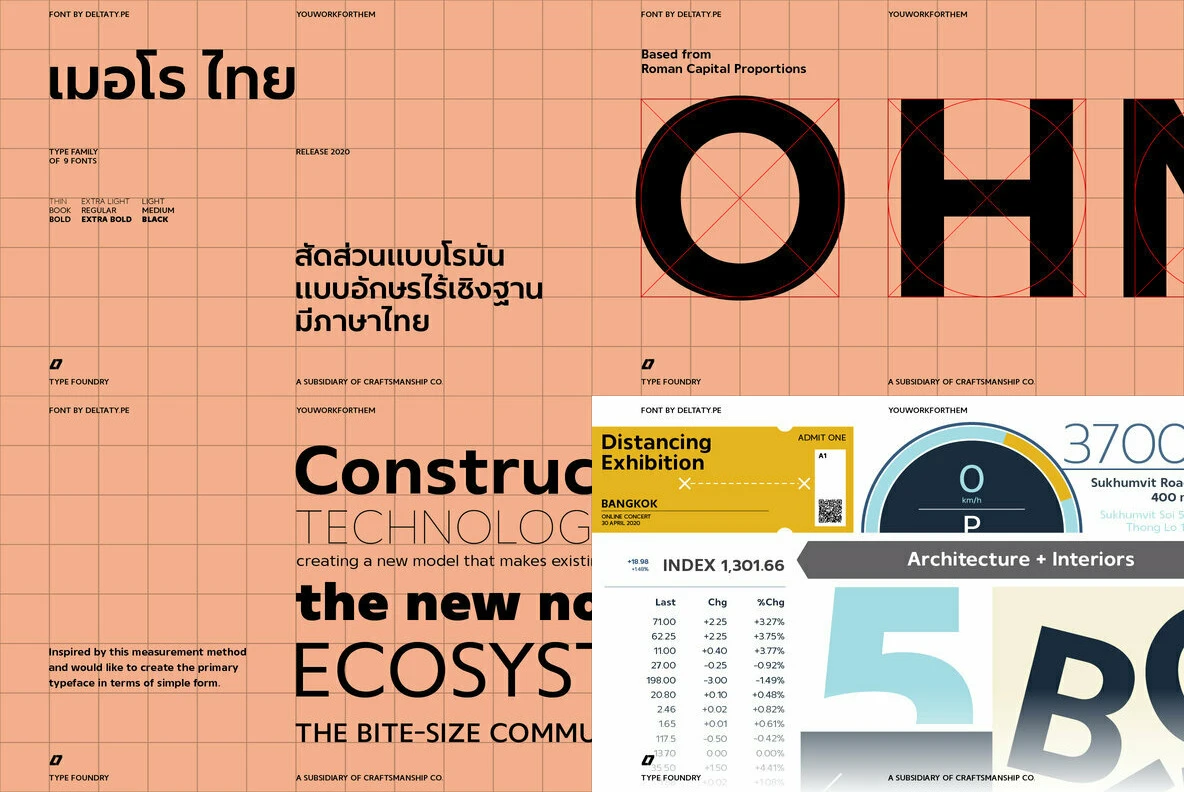 Mero Thai, masterfully crafted by the talented team at Deltatype, boasts exceptional legibility and a multifaceted design that effortlessly adapts to an impressive array of projects. Whether you're working on sophisticated branding initiatives or captivating editorial pieces, Mero Thai's versatile nature ensures that it seamlessly blends into diverse typesettings. With its fine balance of modernity and traditional aesthetics, Mero Thai delivers a visually striking and highly functional typeface, perfect for making a lasting impression across various design mediums.
BSru Pro, a pristine and contemporary Thai font, offers exceptional adaptability for both print and digital projects. Its versatility makes it an excellent choice for distinctive branding, alluring packaging, and immersive editorial work, allowing your creations to shine with a professional edge. Capturing the essence of a classic Thailand, BSru Pro harkens back to the late 1800s in Thailand, a period marked by a slower pace. Embrace the timeless charm and sophistication of BSru Pro for your design projects, and experience the captivating fusion of history and modernity in this exceptional typeface.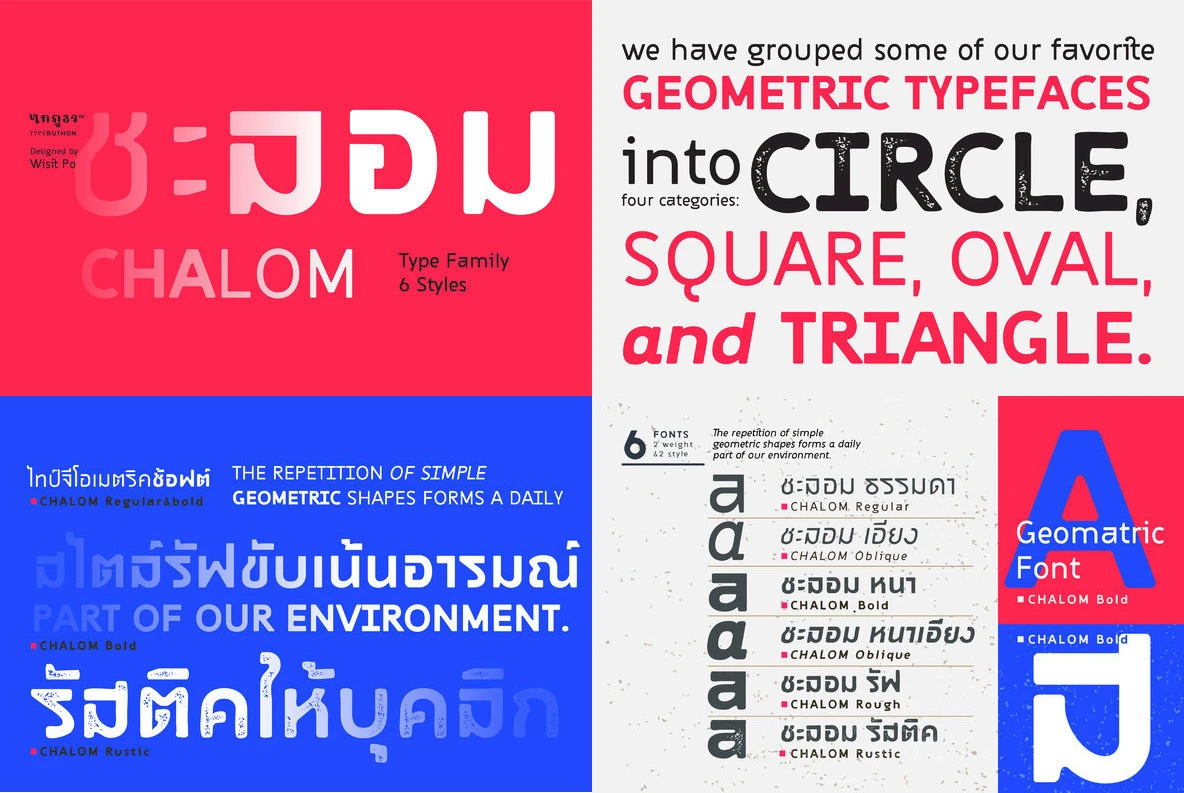 For those seeking a distinct and personal touch, Chalom is the Thai font that truly stands out. With its additional rough and rustic style options, this unique typeface is the perfect choice for designing intimate invitations, charming posters, and engaging social media graphics that evoke a warm, inviting atmosphere. Chalom's informal, playful, and quirky design imbues your Thai design projects with a refreshing sense of originality and character. Embrace the delightful charm of Chalom for your creative work, and experience the captivating allure of a typeface that captures the essence of individuality and artistic expression.
Mako, a minimalist and futuristic Thai typeface, boasts an impressive array of over 800+ glyphs, making it an exceptional choice for technology-centric projects. Its streamlined, forward-thinking design is perfectly suited for a wide range of applications, including captivating logos, sleek app interfaces, and dynamic advertising campaigns. With its modern aesthetics, Mako ensures your work remains at the forefront of design trends, capturing attention and sparking interest among your target audience. Embrace the innovative spirit of Mako for your creative projects and experience the transformative power of a truly groundbreaking typeface that promises to keep your designs fresh and engaging in an ever-evolving digital landscape.
For an infusion of refinement, look no further than Malte Thai, a distinguished typeface that masterfully blends classic and contemporary elements. This elegant font is an exceptional choice for crafting sophisticated branding, captivating editorial work, and polished website designs, ensuring your projects radiate style and distinction. With its harmonious fusion of traditional and modern aesthetics, Malte Thai elevates your creative work, setting it apart from the competition and leaving a lasting impression. Choose Malte Thai for your design projects and experience the transformative power of a truly graceful typeface that exudes finesse and charm.
Martian B Thai, a bold and attention-commanding typeface, is the ultimate choice for high-impact headlines and powerful posters. Its striking design lends itself exceptionally well to entertainment and media-related projects, guaranteeing your message leaves an indelible mark on your audience. Infused with a distinctively masculine style, Martian B Thai excels in creating a strong visual impact, making it an excellent choice for not only media projects but also sports-related designs where a dynamic and assertive presence is desired. Embrace the robust and unforgettable character of Martian B Thai for your creative endeavors and witness the captivating effect of this commanding typeface on your projects.
Greycliff Thai CF, an exquisite geometric sans-serif typeface, skillfully fuses contemporary flair with timeless elegance. Conceived by the renowned designer Connary Fagen, this versatile typeface boasts a well-balanced design that excels in various applications, from eye-catching logos and bold headlines to engaging display text. With its unparalleled ability to make your work both enduring and impactful, Greycliff Thai CF is a designer's dream. Comprising an impressive array of 9 distinct weights, Greycliff Thai CF caters to a wide range of design styles and preferences. Its extensive character set, featuring over 500 glyphs, ensures comprehensive language support and enhanced creative flexibility.
Elevate Your Designs with the Perfect Thai Font
Incorporating the right Thai font into your graphic design projects can significantly enhance their appeal and impact, and provide the right communication to the local Thai market. The top 9 Thai fonts we've highlighted in this blog post cater to a variety of design needs and styles, ensuring that you can find the perfect fit for your work.
Remember, with YouWorkForThem, you can easily download these exceptional Thai fonts and secure the licensing you need for personal and corporate use, and earn cash back with all your purchases. For extended support and customization regarding Thai language, feel free to contact us today for more information. Elevate your designs and improve your global reach with these remarkable Thai fonts!